Texas A&M Institute for Genome Sciences & Society
About Us
Our facility is committed to fostering innovation and collaboration, enabling researchers to explore the fundamental mechanisms underlying life, health, and disease. Through our comprehensive range of advanced genomic and phenotyping tools, we aim to facilitate breakthroughs in personalized medicine, precision agriculture, evolutionary biology, and other fields that rely on a deep understanding of genomics and phenotypic characterization. We strive to be a trusted partner, offering customized solutions tailored to the specific needs of our clients. Our team of highly skilled experts is dedicated to providing exceptional support, ensuring that researchers have access to cutting-edge technologies, robust data analysis, and comprehensive training.
TIGSS is comprised of three service cores, developed to enable you research and provide access to gold-standard instrumentation operated by dedicated research staff:
Texas A&M Preclinical Phenotyping Core
---
News
The molecular genomics core is excited to bring Oxford Nanopore's newest flowcell biochemistry R10.4.1 to our users and clients! Check out how this advanced chemistry enables modal read accuracy of 99% eliminating the previous trade-off between high read accuracy and long-read sequencing. Contact us today to begin your sequencing project!
The TPPC is working to bring an inhalation chamber system online in August 2023! This state-of-the-art whole body inhalation chamber system will bring our users and clients the ability to rig exposures and monitor systems in which previously have been impossible. Reach out to Dr. Sunja Kim to get more information and receive training.
The Molecular Genomics, TPPC, and Bioinformatics Cores have partnered to offer a one-stop scRNA-seq sequencing and analysis on the 10x Genomics platform to identify cell population states and enable research and a previously unheard rate. Contact us today to schedule your histological prep, library prep, sequencing, and data analysis.
---
Upcoming Events
---
Location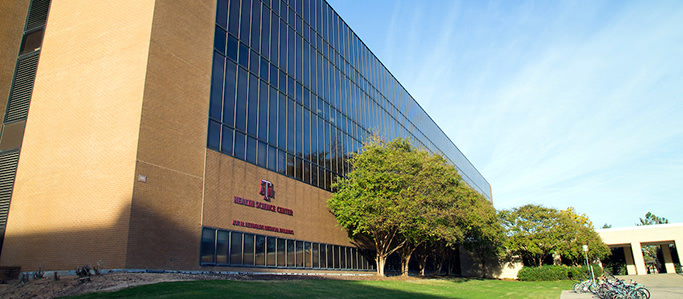 Reynolds Medical Sciences Building, Room 440
College Station, TX 77843
---
Parking
15-minute parking at the loading dock (pictured to the right)
30-minute guest parking in lot 18
Paid parking in lot 72